Technology evolves so fast that sometimes it seems impossible to take advantage of advances. That's why, when we started to think about the role that virtual reality and augmented reality would have in our activities a few years ago, we didn't suspect that we would see it working in the short term. Fortunately we have found an unbeatable team of advisors to take our first steps in the virtual environment.
Part of the success of this project has been possible because of the collaboration we've had with Binary Box and the Directorate General for Innovation, Technological Development and Industrial Entrepreneurship of the Government of Cantabria with whom we started the project, within the INNOVA 2018 program.
It was after discovering the Binary Box escape room and its machining machine training simulator that we found the key. Exploiting VR technology in ORAN was not a matter of looking to the future, but to the present.
Virtual reality from a practical point of view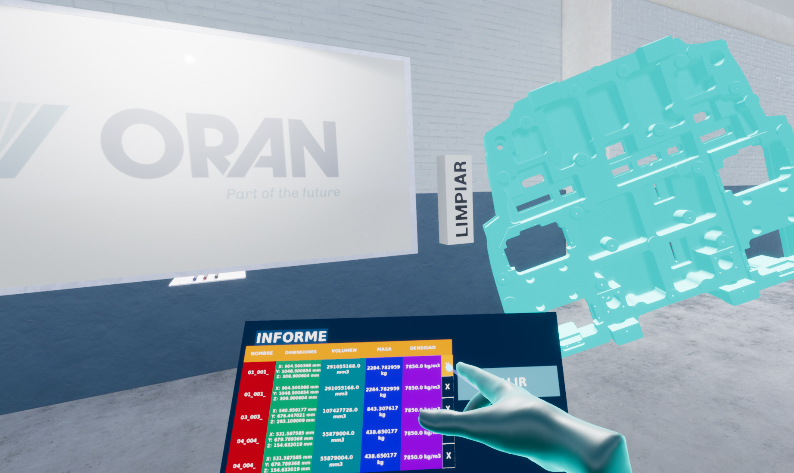 After a process in which our technical office team was in charge of defining the ideal uses of the VR application, it was agreed that the main objective was to be able to show in detail both the 3D designs of a single element, and sets of elements with their specific object hierarchies (for example a stamping die with its various components).
To a great extent, the work of our technical office team is based on the exhaustive analysis of 3D designs. Sometimes to perform validations to approve the purchase of materials, and other times to analyze future manufacturing work.
This is why we have been looking at the possibilities of VR and AR (virtual and augmented reality) for some time now. Without a doubt, enabling and traction technologies of Industry 4.0. Interesting, in particular, for the capacity of immersion and attention to detail they allow.
An immediate impact technology
Developed under the open source software FreeCAD, the viewer "ORAN VR" is complemented with "ORAN Export Add-On" to perform exports of files of various formats (.IGS and .STP among others).
Providing our technical office with this technology allows us to simulate assemblies, analyze interference, expand components, calculate their measures and minimum box or estimate the weights and volumes of each element.
The level of detail allowed by the platform adds new possibilities for our manufacturing team to provide their point of view and propose modifications to the designs to optimize them for manufacturing.
This has an important impact on the value chain. The more mature and tested a design is, the more guarantee there is that it will not need modifications later on, ultimately saving time and money.
From the virtual environment itself, we take notes on a digital blackboard and make screenshots to include in reports, illustrating the conclusions of our analyses.
Teamwork has no boundaries now
As if it was not enough, all this activity can be developed in a collaborative way. Two people can connect through the VR equipment in the same room or in different locations, synchronized through the Internet. This allows teamwork with any place in the world in real time.
This collaborative character is not only useful in work processes. It is also a unique tool in worker training. The VR and AR provide an unparalleled framework for conducting training safely and illustrating concepts graphically, practically and visually.
In this sense, "ORAN VR" has been a stimulating project in which, from the hand of Binary Box, we have learned a lot. This technology drives us forward. It invites us to continue training ourselves and to learn new concepts, methods and skills that will progressively permeate the rest of our team.
That is why we want to share the learning and experience gained. If you are interested in trying ORAN VR (our virtual reality viewer) or exchanging opinions with us, send us an email to oran@oranauto.com with the subject "ORAN VR". We will contact you to arrange a meeting in the most convenient and quickest way.
In this way we want to help spread an experience that, we firmly believe, prepares us for an immediate future in which virtual and augmented reality will be technologies of great impact in our daily work.