· ORAN is an internationally recognized manufacturer of metal body-in-white and chassis components.
· Our ability to adapt, our leadership in the integration of successive technological innovations in our processes, and our export profile have been our competitive advantages since 1939.
More than 80 years of history endorse our work and national and international recognition as experts in the manufacture of metal body and chassis components, both for OEMs and TIER1s in the automotive sector.
Our experience, since 1939, has always been oriented to the continuous overcoming of challenges. Thus, we have been able to offer our customers both guaranteed service for their present needs and solutions for their future objectives.
This particular vision and way of working has been possible thanks to our ability to anticipate and adapt to the successive changes in the market, orienting each process towards dynamics of continuous improvement, and integrating quality control and social and environmental responsibility in all our activities. Therefore, in ORAN we have been able to repeatedly transform challenges into strengths, managing to turn them into competitive advantages that have favored our outstanding position as expert manufacturers in an environment as complex and demanding as the Automotive sector.
Continuous improvement as a work driver
On the one hand, for us, Innovation means efficiency. It is the empowering element that allows us to advance in our work every day, always with an eye on the future, and looking for ingenious and high-impact solutions, to give the best response to the needs of our customers.
On the other hand, investment is the constant improvement of our production means, which we modernize to ensure the latest technology at every stage of the manufacturing process. An example of this is our latest acquisition, an ABB FlexSpot welding cell, with which we have upgraded our welding process capabilities.
In addition, at ORAN we have organically integrated improvement processes, assigning each member of our staff an active role of participation through individual initiatives, which form the basis of the best collective performance and, therefore, of the best product and service for our customers.
This philosophy of work allows us to confirm the growing consolidation and confidence that the ORAN brand generates among the main OEMs and TIERS1s. 
Ability to adapt to different projects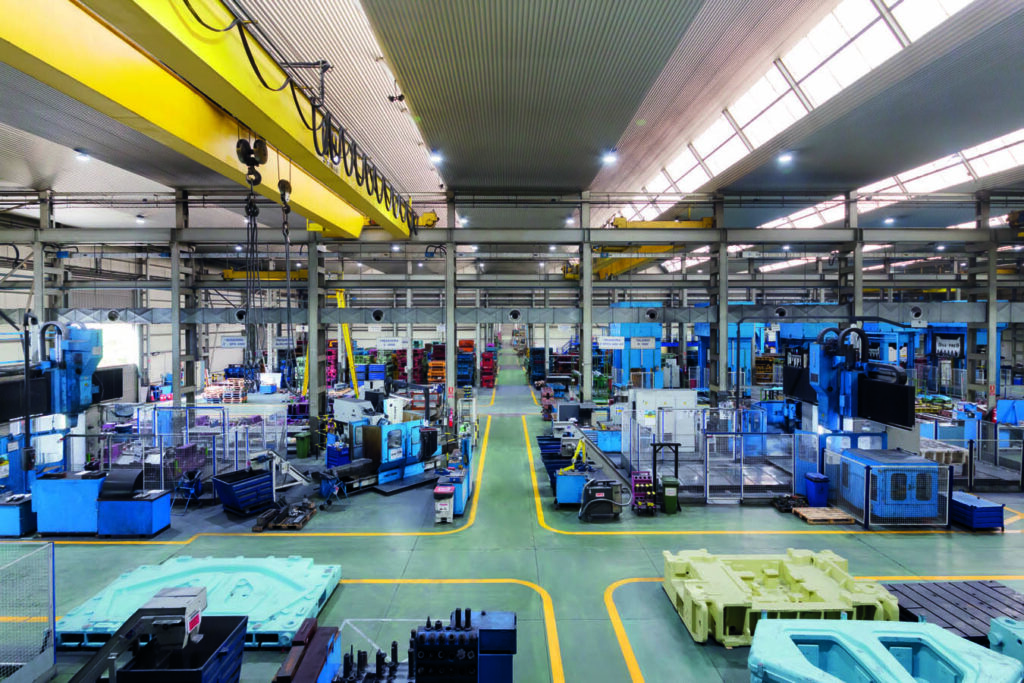 At ORAN we master the different phases involved in the development of a project: fabrication of stamping dies, stamping, assembly and welding of components, and cataphoresis painting. 
Thanks to our great capacity for adaptation, we are able to carry out all these phases together, offering our clients a comprehensive service adapted to their needs:
· Having multiple production alternatives under one roof allows us to pass on to the customer the advantages of having a single interlocutor.
· Knowing and managing the project in its entirety enables us to achieve efficiency and quality improvements in the product.
· In addition, our customers benefit directly from the savings in logistics costs by significantly reducing transportation cycles.
Located in Santander (Cantabria), our headquarters span a total of 40,000 square meters, which makes this adaptability possible, and allows us to execute both high volume projects as well as others of medium size or special characteristics.
Our facilities have been designed to meet the needs of the industry we serve, so we know that our customers will find in ORAN the best solution to their needs.
Quality in all products and services
Our high level of specialization in the automotive sector endorses us as expert suppliers in meeting the requirements of the most innovative manufacturers. Our certification according to the IATF-16949 Standard as well as the integration in our processes of other standards of different OEMs, serve as a reference to implement procedures that not only meet, but also improve the quality requirements of our customers' projects.
In addition, our quality department, supported by our own metrology facilities, controls and verifies that the manufactured parts and elements comply with the requirements of each project. Likewise, it promotes and guarantees the application of the most exhaustive control criteria in all our production and management processes, integrating all work stations in their activities.
Environmental responsibility in our activities
At ORAN we are very aware of the environmental responsibility involved in any industrial activity. That is why we work every day to minimize our impact on the environment, respecting the current regulations and applying our principle of continuous improvement in order to leave the smallest possible footprint in our environment.
In fact, our Environmental Management System is certified in accordance with the international standard ISO 14001:2015, which defines the criteria for preventing pollution and having environmental risk management processes in place. In short, it can be stated that a management style oriented to continuous improvement, the ability to adapt, the integration of quality control and environmental responsibility as competitive advantages, have allowed ORAN to position itself as a national and international reference in the manufacture of metallic body-in-white and chassis components of medium and large sizes for the automotive sector.
If you belong to the Automotive sector and are looking for an experienced manufacturing partner, please contact our sales department.